Jeff Rottman, the designer and maker of GR Pottery Forms will be at Railyard Arts Studio for a demo/lecture on tips and tricks on using the Forms.
With Designer Jeff Rottman!
SATURDAY, DECEMBER 5 from 10-12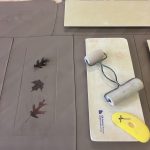 Jeff  has been a production potter selling his work across the Midwest at Fine Craft Fairs, managed and directed classes at his studio, The Grand Rapids Pottery in Michigan and balanced family life through it all with his wife Gretchen and 3 kids.  Now he travels around giving demos and workshops.  In the first hour he will cover handbuilding and in the second hour the use of a WA (Wheel Attachment) to make dinner plates and bowls.
Price $20   Zoom link will be sent one week prior to workshop.
Please include your email address
Venmo username