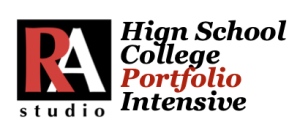 For incoming high school students…
Are you considering art as your major in college? Use this class to get a jump start on your portfolio for college admissions. Whether you are a junior just starting the process or a senior getting ready for applications and interviews, we can help you. This teen intensive class will not only provide personal feedback and counseling regarding your portfolio, but it will also help you set college portfolio goals and give you time and studio space to work. This class is taught by a NY certified art teacher.
The College Portfolio Intensive includes the following:
– A one-hour one-on-one consultation and review of the student's existing portfolio for juniors and seniors.  A review of program choices and requirements/deadlines.
– Feedback regarding strengths and areas of opportunity within the portfolio.
– Studio goals to fill in any missing gaps within the portfolio.
– Studio time at Railyard each week with an art educator present for advisement and feedback as needed.
7 Thursdays   5:15-6:45    Sept 12-Oct 24      $250.00         

ADD TO CART