Light For Lyme!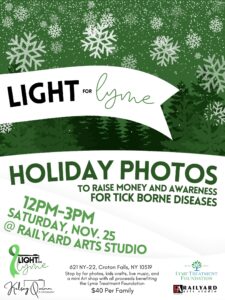 Saturday, November 25th, 1:00-3:00 pm
Join us from twelve to three on November twenty-fifth for an afternoon of family, art, live music, and a pop-up shop with pieces generously donated by Railyard Artists! Each family will have a 15 minute photo session with the extremely talented Kelsey Leary in front of our festive holiday backdrop. These photos are Perfect for holiday cards!!!
The Lyme Treatment Foundation is a global, all volunteer non-profit organization that provides medical treatment grants, worth up to $4,000 USD to people of all ages in Canada, Germany, the United Kingdom, (England, Ireland, Scotland, Wales) and the United States.
Walk ins are welcome but, we encourage pre-registration! To reserve your photo timeslot use the link below!
Holiday Photo Session Sign Ups
---
Holiday Boutique
Saturday & Sunday, December 16th & 17th, 11:00 am – 4:00 pm
Shop for your holiday gifts with us this year at our annual Holiday Boutique! We have over 20 local vendors who will be selling their work. Support small businesses this season by shopping local!

---
Reiki with Rebecca
Saturday, December 2nd, 9:30-5:30 pm
Join us for a Rejuvenating Reiki Session Day at Railyard Arts!
What to Expect:
• Relaxation & Stress Relief: Unwind and de-stress with the gentle touch and energy healing of Reiki.
• Balance & Harmony: Experience realignment of your body's energy centers for a sense of harmony.
• Renewed Vitality: Boost your vitality and enhance your overall well-being.
• Individual Sessions: Tailored sessions to address your specific needs and concerns.
Reiki is a simple, natural and safe method of spiritual healing and self-improvement that everyone can experience. The practitioner helps guide the flow of energy through the body with positive healing intent, helping a person come back into balance. It involves light touch or the placement of the practitioner's hands near the receiver's body at significant energetic areas.
Certified Reiki Practitioner:
Rebecca Weinstein experienced Usui Reiki practitioner will guide you through this unique journey towards holistic wellness. 
www.healingwithrebecca.com

Special Offer for Attendees
:
40 min sessions are only $50 Sessions (10 min of intake + 30 min energy healing)
Limited Spots Available! Reserve Your Session Today!
Don't miss this opportunity to experience the incredible benefits of Reiki! Whether you're new to Reiki or already familiar with its wonders, this event is open to all seeking balance, relaxation, and healing.
For bookings and inquiries, contact: [email protected]
Come, rejuvenate your mind, body, and spirit with the healing touch of Reiki. We look forward to sharing this transformative experience with you!
Payment below, cash or check to: Rebecca Weinstein